GREENFIELD, IOWA 50849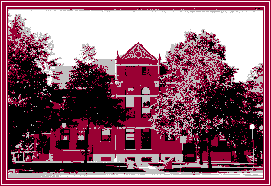 Founded in 1856, Greenfield is the county seat for Adair County. The town features a "European Style Square." All streets lead to the middle of the square, in which the beautiful historic courthouse is centered.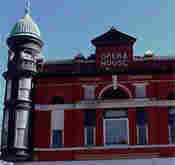 One of the exciting buildings on the square is the E. E. Warren Opera House, which is currently undergoing a complete restoration. It should be complete in the near future and will be a cultural magnet for this area of the state. Built in the nineteenth century, many unusual features, recently rediscovered during renovation tell a fascinating story about this wonderful old buildings past.
The Andrews Memorial Community Center housing the Adair County YMCA was opened in 2003. The senior meal site is located in the same building as is the American Legion. This cooperative effort was funded in part by a "Vision Iowa" grant.
Greenfield has many beautiful City Parks, two of which contain lakes, and one of which has overnight camping. Lake Greenfield is a 236-acre park, with a boat ramp, fishing, sailing, shelter houses, picnic tables, grills, sand volleyball, frisbee golf, and a playground. There is a 2-mile paved walking trail around the 44-acre lake. Lake Nodaway is a beautiful, wooded 80-acre park with a 22-acre lake, providing excellent year-round fishing. The campground offers both tent and trailer camping, with showers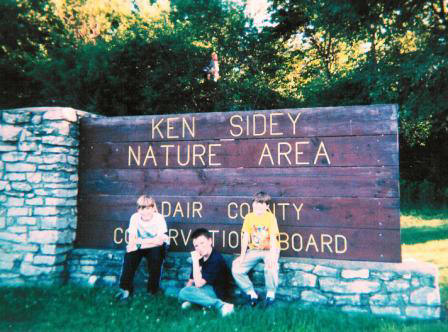 and electricity, a shelter house, and a playground. Hiking trails link to Lake Greenfield.
The Ken Sidey Nature Area, a scenic 107-acre woodland preserve, with 3 miles of walking trails, is nearby. Here you may view native wildflowers and priairie grasses and enjoy great bird watching.
Two museums, the Iowa Aviation Museum and the Adair County Heritage Museum are located in Greenfield. Visitors to the Iowa Aviation Museum have an opportunity to experience flying machines from the first days of aviation, hear stories of early aviators' courageous flights and view an interesting display of related memorabilia. The museum is also home to the Iowa Aviation Hall of Fame.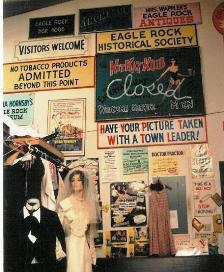 The Adair County Historical Museum is composed of a complex of buildings, located at the west edge of Greenfield and includes numerous collections in the main building, including a large amount of memorabilia from the movie, , which was filmed in Greenfield in 1969.
Other buildings include a one-room Country School, a beautifully restored, 1896 country church (Penn Avenue Wedding Chapel), former Iowa Governor Wilson's home, a railroad depot, an old county jail, a large machine shed, housing an extensive collection of antique farm machinery, a small "city barn" and a cabin from Gross Cabin Park, an early Adair County resort.

LODGING

The Brass Lantern B&B 2446 Highway 92, Greenfield, 50849, 1-888-743-2031

Heated indoor pool. Spacious poolside guest rooms. Private baths with spa amenities. Award-winning breakfasts. Private, relaxing, romantic. Top rated. Reservations required. Website: www.brasslantern.com email: brasslantern@mddc.com

www.backinntimebb.com

The Jewel Box Guest Rooms - 296 Public Square, Greenfield, 50849, 1-641`- 743 - 2748

Restored 1873 one-room school located 1 mile north of Highway 92, between the towns of Greenfield and Fontanelle. Enjoy farm-fresh breakfast. Sitting room, private bath. www.ibbg.com/schoolhouse.htm

Weiland Guest Rooms 402 N E Second, Greenfield 641-743-6403

DINING

Bon's Bakehouse 358 Public Square, Greenfield

Deli Lunches, Catering, Coffee Shop, Bakery. Please reserve for large groups. Open 6 am -- 4 pm, Mon -- Fri; 6 am -- noon, Sat. (641 )-743-2795

Coffee House 362 Public Square, Greenfield email: thebrick@iowatelecom.net

Nodaway Diner 502 S E Kent, Greenfield

Old Hotel Restaurant & Lounge 110 E. Iowa, Greenfield

Pizza Hut 302 S E Kent, Greenfield

Subway 212 S E Kent, Greenfield

Tiger Drive-In 610 S E Kent, Greenfield

SPECIAL ATTRACTIONS
<![if !vml]><![endif]> J

Adair County Tourism Council celebrates "The Gardens of Adair County"