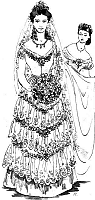 Historic Weddings
at Penn Avenue Wedding Chapel
1-888-743-2031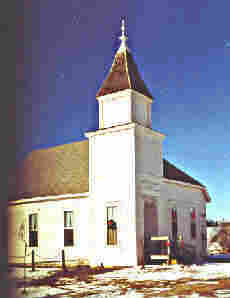 Make your Wedding a truly Historic Event with the charm, romance and elegance of a Century-old Church.

The newly restored Penn Avenue Wedding Chapel (circa 1896), located in the Adair County Historical Park, is the ideal setting for the truly unforgettable Wedding of your Dreams.

This lovely, century-old Chapel is also a very appealing place for married couples to renew their vows and bring friends and family together for a renewal celebration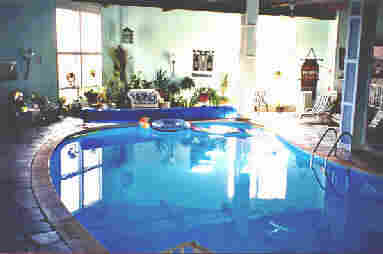 Picture yourself exchanging or renewing your vows in this beautiful old Chapel, then being whisked away in a luxury limousine.......

......To a luxurious Bed & Breakfast for champagne by candlelight beside your own private pool.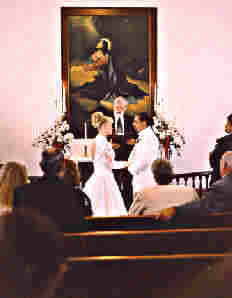 Choose an intimate candlelit ceremony for just the two of you....
....or make it a festive occasion for your family and friends.

Whether you choose a crisp day in winter or a flower-filled day in summer for your ceremony, Historic Weddings will help make it a special day for you:

Intimate...Romantic....Memorable...Affordable...and thoroughly Enjoyable!.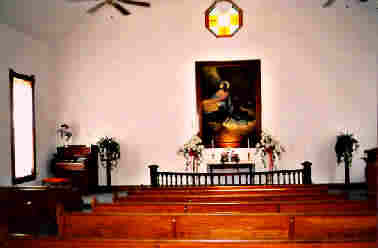 Historic Weddings offers custom wedding packages designed to meet your individual needs and budget.

Every wedding is as unique as the two people getting married, so you may also choose to customize your own package.

Our experienced staff will handle all (or as many)of the arrangements as you want, to make the planning easier and less stressful for you. We are prepared to do everything but provide the bride and groom!




Penn Avenue Wedding Chapel can seat 125 and is air-conditioned. Private space for dressing, adequate parking, and a large meeting room with a kitchen for receptions are available.

Weddings are booked one per afternoon (or evening), on a first-come, first-serve basis. Both Chapel and Hall must be reserved in advance.

Penn Avenue Wedding Chapel is located in the Adair County Historical Complex, on the west side of Greenfield, Iowa, a town of about 2300, located about 90 miles due east of Omaha, Nebraska, and about 50 minutes due west of Des Moines. Kansas City, MO, is about 2-1/2 hours to the south.

The famous "Bridges of Madison County" are only minutes away.

Greenfield, the County Seat, is a bustling little town, with tree-lined streets, gift and antique shops, restaurants, movie theater, grocery and discount department store. Greenfield's "Rare Square" is home to a 100+-year-old Courthouse and a wonderful, under-restoration, old Opera House.

Guests may enjoy three city parks, two with large lakes and excellent fishing, nature areas with walking trails, an antique airplane museum, non-commercial airport, a marvelous country zoo, several excellent golf courses and the nearby prairie homestead of Vice President and agriculture pioneer, Henry A. Wallace.

To make this dream come true for you, call,write or e-mail for more information. Ask about a free consultation and a tour of this romantic little "Chapel on the Hill".

CONTACT:
Historic Weddings
P. O. Box 40
Greenfield, IA 50849
1-888-743-2031
e-mail: historicweddings@mddc.com

website: www.visitadaircounty.com/historicweddings.htm



Check out these sites for additional information about the area.


Brass Lantern Bed & Breakfast

Description and pictures of B&B honeymoon accommodations and the Bridges of Madison County..

Welcome to Greenfield, Iowa

Information about the town of Greenfield and some of its attractions

Ray "Bubba" Sorensen, of Greenfield, paints a different tribute to veterans on this giant rock every Memorial Day.

Henry A. Wallace Country Life Center

A 40-acre outdoor interpretive site featuring the philosophies, ideas, and achievements of V. President and agriculture pioneer, Henry A. Wallace, demonstrated through artwork, gardens, orchard, prairie, row crops and walking trail.

Iowa Aviation Museum

An antique aircraft museum, with many vintage models, and much memorabilia. The home of the Iowa Aviation Hall of Fame. Vintage plane rides available.