STUART, IOWA 50250
I-80 & EXIT 93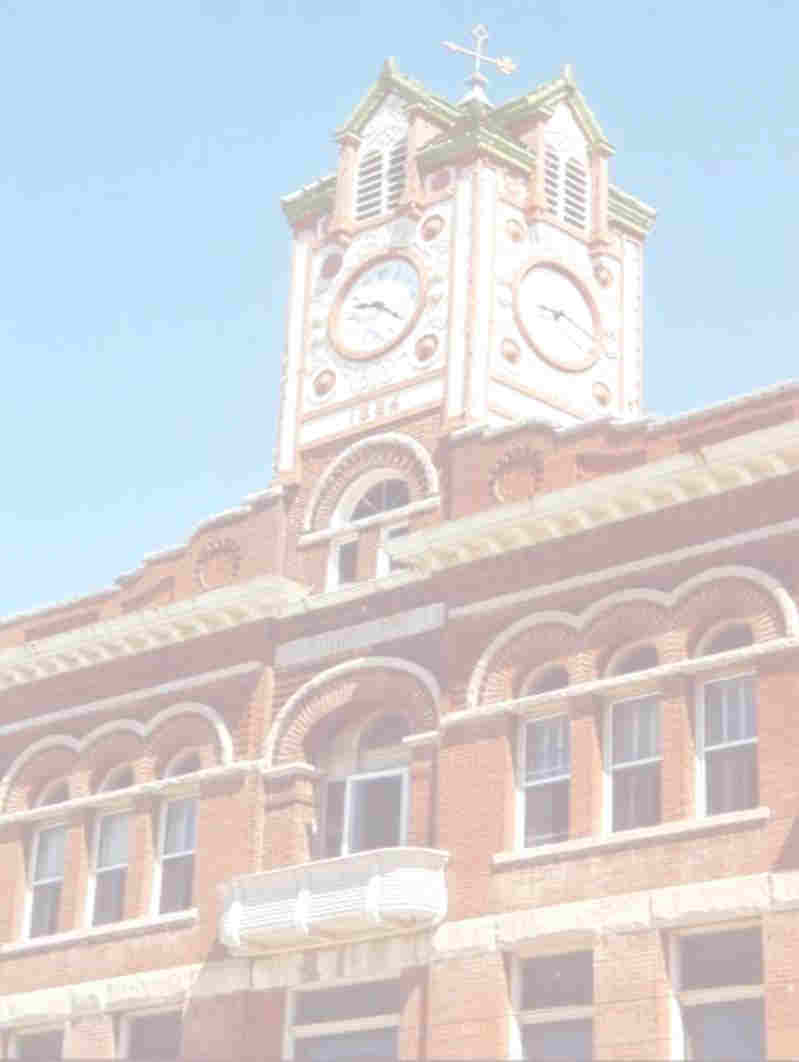 A restored clock tower on Main Street in Stuart is a majestic timepiece atop a beautifully renovated building.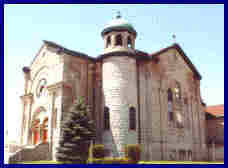 The nearby ruins of the former All Saints Church (once voted "the most beautiful church in Iowa") stand as a vivid reminder of the devastation caused by religious intolerance. Constructed in 1908, in what was truly a community effort, the rare Byzantine structure is one of very few like it found in the Midwest. Loosely modeled after St. Marks in Venice, Italy, the copper dome reached 90 feet into the air, a beacon calling travelers off I-80 for years. It truly was an exquisite place for worship and wonder. In 1995, a lone arsonist, consumed by hatred for the Catholic religion, set fire to the historic building and nearly destroyed it. Restoration has been started by a committee of local residents interested in seeing the still beautiful landmark returned to its former glory. (Project Restore Foundation)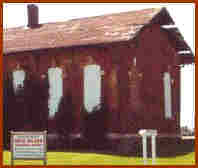 Another landmark under restoration is the old Rock Island Railroad Depot, once one of the regular stops of the Rock Island line on its route across Iowa. Built in 1879, the Depot was in operation until the 1960's. It was placed on the National Historic Register in 1990. When restored, it will serve as a museum and community meeting room.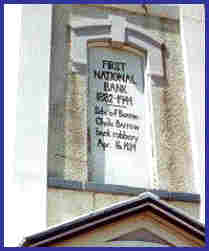 Stuart is also the location of the last bank robbery staged by the notorious Barrow gang (best known as "Bonnie and Clyde"). Shortly after this robbery on April 16, 1934. The original bank building still stands and carries the inscription shown to the left, but the First National Bank closed in 1944 and the building now houses offices.
Stuart's Annual Festival, Good Egg Days, will be June 17 - 19.
For more information, go to Events Worth a Visit
Where to stay:
AmericInn of Stuart, 420 SW 8th St., I-80 & Exit 93N, (515)523-9000 or 1-800-634-3444
New Edgetowner Motel, 920 S. Division, I-80 & Exit 93S, (515)523-1122
Stuart Motor Lodge, 1323 S. 7th St., I-80 & Exit 93N, (515)523-1935
Super 8 Motel, 203 SE 7th, I-80 & Exit 93N, (515)523-2888
, 208 S.W. 7th St. (515)523-1372
Website sponsored by: Brass Lantern Bed & Breakfast, 2446 Hwy 92, Greenfield, (888)743-2031
(I-80 & Exit 93S to Hwy 92, west 6 miles)
Where to eat: Breadeaux Pizza,201 NE 2nd Burger King, I-80 & Exit 93N
Country Kitchen, I-80 & Exit 93S Cyclone Drive-In, 223 S. Division
Kozy Korner Cafe, 1301 N 2nd Lincoln's Lounge, 1316 N 2nd
McDonald's, 1-80 & Exit 93N
Where to visit: Raccoon Ridge Archery 3281 - 298th Lane 1-515-523-1351 "Iowa's premier 3 D Archery Course." E-mail: mail@3darchery.com
Rock N Ranch Crafts & Consignment 211 N. Fremont St. Open Tues-Sat, 10 am - 6 pm.
Camping and Canoeing: . (Scenic wooded bottomland with canoe access to Middle River. Canoeing, primitive camping.)
Wright Wildlife Area: 240-acre wildlife area.