ORIENT,IOWA
Orient is located on Highway 25 near the southern border of Adair County.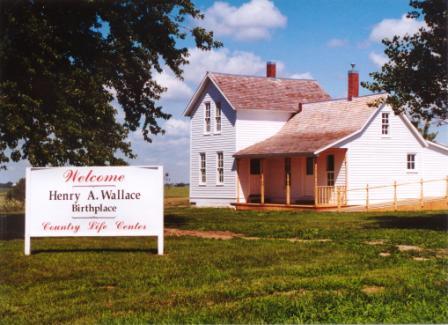 The Henry A. Wallace Country Life Center, the birthplace farmstead of vice president Henry Wallace, the founder of Pioneer Hy-Bred Seed Corn, is nearby. The site features a restored prairie, outdoor artwork, flower gardens, an orchard and a walking path.
Bank of Memories, an unusual museum, housed in a former bank building, and featuring Mormon Trail memorabilia as well as an authentic Mormon pushcart, is located in downtown Orient. Also included are displays of Orient native sons, Henry A. Wallace, Dazzy Vance (baseball Hall of Fame), and World War II pilot, Jack Conger.
Native trees, shrubs, grasses and wildflowers have been planted across the street from Bank of Memories. Railroad memorabilia is on display near the site of the original depot, and Adair County artist, Ray "Bubba" Sorensen has done a painting of the depot on a large rock nearby. A perpetually lit Veterans Memorial Flag has been erected there to honor the service and sacrifice of our veterans and to serve as a visual reminder of the price paid for our liberty and freedom. A Mormon Trail Interpretive Panel is also located on the site.
The ABC City park, recreation "slab", and provide for leisure activities. An historical marker commemorating Henry A. Wallace is located near the 22-acre lake, which offers excellent fishing, camping with electricity, picnicking, a shelter house, playground, frisbee golf course, horseshoe pits, and a walking trail.

Where to Stay:
Special Moments Bed & Breakfast
3070 State Highway 25, Orient , IA 50858
641-345-2697
2446 Hwy 92, Greenfield
1-888-743-2031

Be sure to visit: Henry A. Wallace Country Life Center