MEDIA NEWS
For Immediate Release
Date: JULY 9, 2007
Tent Theatre Project Performance Scheduled for Orient, IA, Saturday, August 4th, at 7:30 PM
Contact Information:
Terry Moore, Chairman
Adair County Tourism Council
Greenfield, Iowa 50849
1-641-743-2031
On Saturday, August 4, Orient's Quasquicentennial Celebration will be the setting for a groundbreaking theatrical project with roots in our rural past when the Iowa Tent Theatre Project rolls into town with its 1930s vintage vehicles, a red and yellow "big-top" tent which seats 300, and a company of energetic young actors.

They will perform the play "Standing Tall : an Iowa Tent Play" by native Iowan Ralph Hall, who founded the professional, not-for-profit theater company and directs the play. Designed to celebrate the contemporary people and places of Iowa while providing entertainment with the whole family in mind, this heartwarming comedy about an Iowa farm family in the '30s will be presented complete with talking animals, aerial puppets and other theatrical surprises, including a tornado! Hall says, "There is nothing like the magical ambiance created by a tent theatre performance. I look forward to sharing this wonderful form of family entertainment with the communities of my home state."

Modeled after the traveling troupes of players that toured the American Midwest, and particularly Iowa, in an age before movies, television and video, the Iowa Tent Theatre Project promises a pleasant reminiscence for those who remember the old time Tent Shows, and a surprising and exciting new experience for those who weren't here to watch them the first time around!

Hall's long term goal is to establish a tent theater troupe that premieres and tours a new tent play throughout Iowa each summer. Only 11 communities will host performances across Iowa in this Premier Season; Orient is one of only 3 located in SW Iowa. All per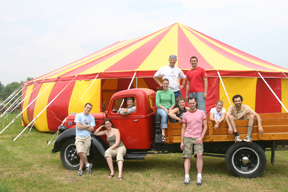 formances to date have been to sell-out crowds, with audiences giving rave revues!

The performance on August 4th at Orient's Quasquicentennial Celebration is sponsored by the Adair County Tourism Council, with funding assistance from the Empowering Adair County Foundation.
The show starts at 7:30 p.m., but there are a variety of activities planned throughout the day, all designed for family entertainment in celebration of Orient's 125th anniversary. Everyone is welcome to come early in the day to see the antique vehicles cruise into town, watch the "big top" tent go up, and visit with the actors and director. The performance itself is appropriate for all ages and groups and is approximately an hour in length.
Tickets are $3.00 per person. Since seating in the tent is limited, only 300 tickets will be sold. Advance purchase is advised, and tickets may be obtained by phone or email from Lee Ann Nelson at the The Iowa Aviation Museum (641-343-7184 - aviation@iowatelecom.net) or purchased at any of the banks in Greenfield, Fontanelle, and Orient. Bon's Bakehouse will also have tickets for sale.
Fantasia & laughs under the tent
By: Jonathan Van Dyke - The Daily Iowan
Posted: 6/29/07 (re: Tent Show in Iowa City, tickets $10.00/each)
"OK, for 10 bucks, you get vaudeville tornadoes, talking turkeys, a really, really cute pig, fights, big laughs, and music," Alex Suha said, almost exasperated. "And when you leave, you feel good."

Suha, one of eight actors in the Iowa Tent Theatre Project, wears his enthusiasm on both sleeves. Through the sweltering heat, he and project creator Ralph Hall showed no signs of wearing down on the quiet afternoon in the half and half shade of Pita Pit's patio. Hall's Tent Theatre will roll into Iowa City with "a little caravan that goes about 41 miles per hour" to the Johnson County Fairgrounds for a 7:30 p.m. performance today and Saturday.

A 1930s tale, Standing Tall harks back to exactly what the writer/director seeks to revitalize: the traveling tent theater.

"We're trying to draw on stuff that's about Iowa," Hall said and smiled, his sunglasses doing little to disguise his zeal. "It's theater for Iowa. This is an Iowa company. I've tried to write a show for Iowans that works in the plight that we identify with."

The plight in this case is that of a little girl trying to save her parents' drought-ridden farm. In pursuit of a tall tale involving crop-growing golden coins, she falls into a fantastical Alice in Wonderland fantasia spiced with Tim Burton surrealism - on the stage. In a bursting 60 minutes, Hall and company affront audiences with conniving buzzards, a not-quite-right cornfield, and a show-stopping twister.

"How do you create that visual experience that is really unusual, and stimulating, and exciting?" Hall asked. "And it's not special effects, it's not animation: It's a theatrical event."

The troupe employs seven current or graduated UI theater majors and boasts of its status as the nation's only true tent company.

"I got an e-mail from Ralph saying, 'Are you in?'" Suha said. "I said, 'Yeah,' and I just moved back onto his porch [in Riverside], because this is something worth doing, because it hasn't been done in a long time, and this is the kind of experience that you don't get every day."

For an actor, the physical nature of the play - including its setup - has a certain elevated energy. Suha described this effect during the troupe's first performance.

"You've got three seconds," he said, stretching his arms to demonstrate that physical nature. "There's a fight. There's turkeys and dogs and a pig - all fighting - OK, you got three seconds after that to go out of that - in the heat - put on these slacks, and come right back on, and start to be a little offshoot of a tornado."

Bruce Marrs, the play's technical wizard, designed the aforementioned tornado, which Suha and Hall described as featuring vaudevillian qualities. An enormous talking puppet with twisted fabric and an adjustable tail, the tornado enters with seven performers who act as its offshoots in the classic chorus introduction "Ladies and gentlemen …"

And perhaps it's that tornado, not the talking turkeys - Suha plays Laurel; guess what the other's name is - nor the talking dog, nor the sinister crows, nor the choreographed cornstalks, no, it's that swept-up feeling that best epitomizes the senses of the crowd. That energy that comes with physical theater, the same energy that has Marrs staying at Hall's house and has Suha on his porch step.

"This is risk theater," Hall said. "It's not as comfy as indoor theater, and the audience and the actors all have to take a risk. You never know what's going to happen. You'll be walking a little bit into a time machine, and I think that's a good experience for everyone to have."

E-mail DI reporter Jonathan Van Dyke at:
jonathan-vandyke@uiowa.edu
For Immediate Release
Date: April 24, 2006
Adair County Supervisors recognized for support of tourism development and promotion in Western Iowa.
Contact Information:
Terry Moore, Chairman
Adair County Tourism Council
Greenfield, Iowa 50849
1-641-743-2031
visitorinfo@mddc.com
County Supervisors from 33 Western Iowa counties were thanked for their support of the tourism industry during the Western Iowa Tourism Region meeting at Swan Lake Education Center in Carroll on Thursday, April 20th.
Abbey Larson, President of the Regional group said, "Volunteer education, networking, cooperative ;marketing and grant programs for local events and attractions are possible in Adair County because the County Supervisors invest $500.00 each year to "match" more than 150,000 program dollars from the Iowa Department of Economic Development".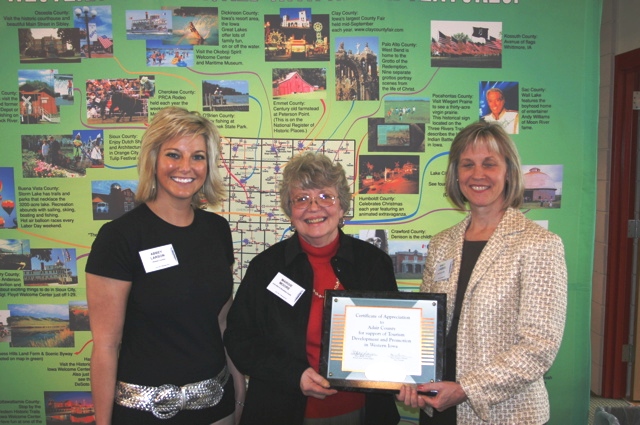 Since no Supervisor from Adair County was present, the award was accepted on their behalf by Margie Moore, a representative of the Adair County Tourism Council (center). Shown presenting the award are Abbey Larson, WITR President, (left) and Nancy Landess, Director of the Iowa Tourism OFfice (right).
"Tourism has proven itself to be a major economic engine for Iowa, generating a whopping $5 billion in direct spending last year, while improving the quality of life for current and potential citizens in every community," said guest speaker Nancy Landess, Director of the Iowa Office of Tourism.
"Every community has a story to tell through their cultural, historic and ethnic attractions. Add recreation to that mix and Iowa attracts more than 30.5 million visitors," said Michelle Walker, Director of the Western Iowa Tourism Region. " By working together regionally, Western Iowa has put our attractions and events 'on the map'."
The Western Iowa Tourism Region is a non-profit organization whose mission is to enhance the visitor industry in 36 western Iowa counties. In addition to financial support from each County and the Department of Economic Development, 150 businesses and organizations show support with private membership in the organization.
One of three tourism Regions designated by the Iowa Department of Economic Development, the Western Iowa Tourism Region is the only organization solely devoted to developing and promoting the tourism industry in western Iowa.